III CEIMAR International Summer School on
E

stuarine and

N

earshore

S

y

stems: From Fundamentals to Cutting-Edge Knowledge
June 5th – June 17th,
2016

. Granada, Spain.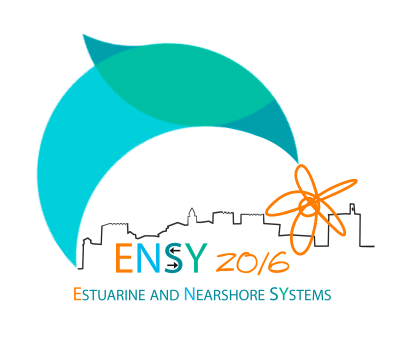 The III CEIMAR International Summer School will focus on the process-based modelling of estuarine and nearshore systems, covering from fundamental concepts to advanced applications or current knowledge of these systems. The primary topic of the school will be the study of the estuarine and the nearshore environment with simple mathematical-physical models that govern hydrodynamic, morphodynamic, and ecological processes. The school aims at providing an integral view of actual coastal systems through thematic lectures, and hands-on practices led by international renowned experts.
Attendants
This Summer School is intended for MSc and PhD students who are interested in physical processes in nearshore and estuarine systems. Our students are expected to be familiar with basic concepts (at least, end level of Sc. or Eng. bachelor) of: hydrodynamic equations, ocean waves, boundary layer properties, mathematical and statistical methods, and computer programming.
Important Dates
Check in: Sunday, June 5th (Icebreaker at 20:00).
Starting date of Summer School: Monday, June 6th.
Check out: Saturday, June 18th.
Deadline for registration:

Expired

on March the 20th. Thank you for your submissions.
Download the leaflet here.
Download the programme here.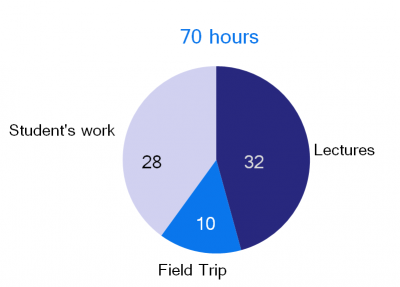 The course consists of 70 hours a two-week period. The course takes the form of 32 hours of lectures and assisted practices, approx. 10 hours of a field trip to the Granadian coast, and about 28 hours of students' work. Approximate distribution of hours between Theory (T) and Practices (P), to be done by the students assisted by the lecturers, is 50%. The student's working hours also include: short individual presentations (10 min/student) in which they introduce themselves and their research interests; teamwork to carry out practices and assigned projects; and final group presentations of the outcome of the project (30 min/group).
Lectures and practices are organized in four parts: (I) beach and nearshore, (II) estuaries, (III) nearshore and estuarine biochemistry, and (IV) smart data analysis.
| Topic | #Hours | Lecturers |
| --- | --- | --- |
| Beach and Nearshore (I) | 8(4T+4P) | Masselink, Ortega-Sánchez |
| Estuaries (II) | 8(4T+4P) | Schuttelaars, D'Alpaos, Díez-Minguito |
| Ecological modelling (III) | 8(4T+4P) | Ruiz, de Swart |
| Data analysis of lab and field observations (IV) | 8(4T+4P) | Longo, Valle-Levinson |
The assigned projects will consist of a short research on related to different topics addressed at the school. Each project is expected to be carried out by a group of 3 or 4 students under supervision of experts. These projects will be assigned by organizers and lecturers. At the end of the Summer School, each group will give a 30 min presentation of the outcome of the project.
| Student's activities | #Hours |
| --- | --- |
| Individual presentations | 3 |
| Final group presentations | 5 |
| Teamwork and supervisors assistance | 20 |
The reception would be held in the Andalusian Institute for Earth System Research the Monday 6th of June, between 9:30 to 10:30.
Lectures & Student's work are usually programmed between 9:30 to 17, with a break between 13:30 to 15 for lunch.
Field Trip is scheduled the 7th of June.
The Summer School ends up the Friday 17th of June, with a farewell at 16.
The tentative schedule is as follows: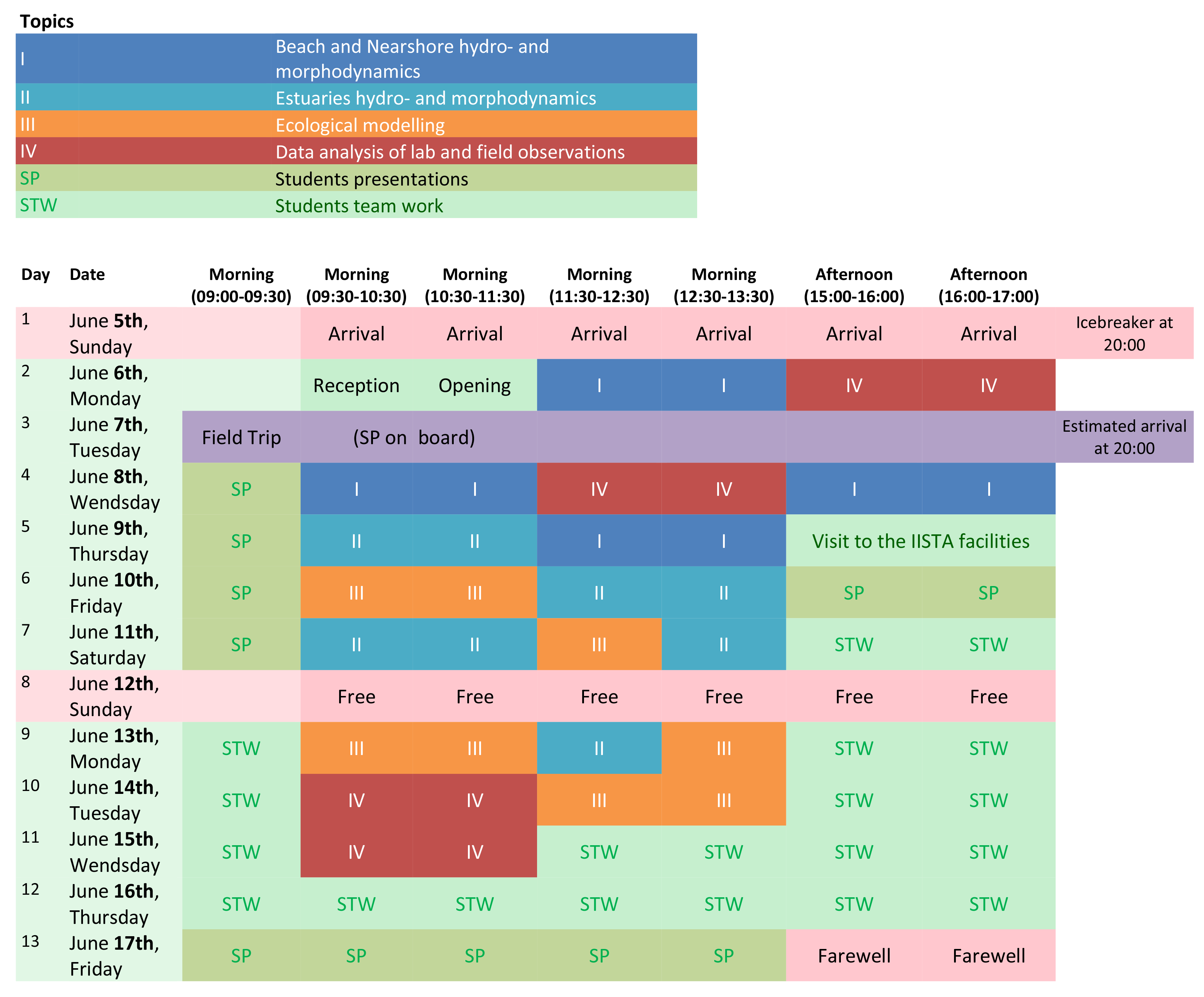 The course fee is 750 Euros. This fee covers lodging, meals, study material, and the field trip expenses. Travels to and from to Granada is on the students own expense. Grants for CEIMAR Campus students will be available. Some additional funding may be available for other students. Please, indicate in your submission if you also are applying for a grant. In that case, attach the necessary documentation to justify it.
Now, available the registration form in this link.
Stephanie Marie Dohner (University of Florida, USA)
Sergio Maldonado-Villanueva (Stanford University, USA)
Fabio Addona (University of Parma, Italy)
Klaas Lenstra (Utrecht University, The Netherlands)
Jaime Arriaga (Polytechnic University of Catalonia, Spain)
Juan Luis Garzón Hervas (National Oceanic and Atmospheric Administration, USA)
Roeland van de Vijsel (Royal Netherlands Institute for Sea Research, The Netherlands)
Rodrigo Mosquera (University of the Republic, Uruguay)
María Concepción Calero Quesada (University of Málaga, Spain)
Sepehr Eslami Arab (Utrecht University, The Netherlands)
Raimundo Ibaceta (Valparaiso University, Chile)
Pim Willemsen (University of Twente, The Netherlands)
Encarnación Medina (The University of Edinburgh, UK)
Caroline Fredriksson (Lund University, Sweden)
Laura Tommasini (University of Padova, Italy)
Roséanne Bol (University of the Basque Country, Spain)
Erika D. Johnson (Woods Hole Oceanographic Institution, USA)
Ana Cunha (University of Lisbon, Portugal)
Johan Damveld (University of Twente, The Netherlands)
Jennifer Wehof (Woods Hole Oceanographic Institution, USA)
Floris de Wit (Delft University of Technology, The Netherlands)
Juan del Rosal (University of Granada, Spain)
Gaetano Porcile (University of Genoa, Italy)
Scienfic Committee
Manuel Díez-Minguito, Environmental Fluid Dynamics Group, University of Granada, Spain.
Miguel Ortega-Sánchez, Environmental Fluid Dynamics Group, University of Granada, Spain.
Luis Cruz Pizarro, Instituto del Agua, University of Granada, Spain.
Local Organizing Committee
Miguel Ángel Reyes-Merlo, Environmental Fluid Dynamics Group, University of Granada, Spain.
Rafael J. Bergillos, Environmental Fluid Dynamics Group, University of Granada, Spain.
Pedro J. Magaña, Environmental Fluid Dynamics Group, University of Granada, Spain.
Advisory Committee
Miguel Á. Losada, Environmental Fluid Dynamics Group, University of Granada, Spain.
Huib E. de Swart, Institute for Marine and Atmospheric Research Utrecht, Utrecht University, The Netherlands.
About the city
Granada is an outstanding university city. The 30% of its population are students, lecturers, researchers, and administrative staff directly linked to the University of Granada. A lively student atmosphere has flourished here, giving rise to the development of a multicultural and vibrant study destination. Thanks to its rich historical and cultural legacy, and to the presence of a pro-active university community, Granada has firmly established itself as a vibrant cultural hub. The city has been home to Iberian, Roman, Jewish, Muslim and Christian communities, all of which have left their own distinctive footprint on the city. The world-renowned Alhambra palace, UNESCO world heritage site, is widely regarded as the most outstanding examples of Arabic architecture to date. The Sierra Nevada range dominates the sights and climate of the city. The subtropical coast, just 65 km southwards, offer scenic beaches and exceptional weather throughout the year.
Plan your stay
Granada Airport is located 16 kilometers from the city. There are car rentals, bus service (recommended) to Granada, and taxis. Domestic flights connect Granada with Madrid and Barcelona, among others. In order to reach Granada, we also recommend you to fly directly to Málaga (AGP). Málaga Airport is connected with many international destinations from all over the world. Málaga is the nearest international airport and is only 90 minutes from Granada by road. There are frequent bus connections between Málaga Centre and Granada. Check this document if you are planning to come from the Malaga Airport.
Participants will be accommodated in the University Housings of the Carmen de la Victoria. The Carmen de la Victoria, with a delighful panoramic viewpoint of the Alhambra and full of gardens, is located in the moorish quarter of the Albayzín Hill and is 40 minutes walking from where the course would be given.
The lectures and the meeting of the Summer School lectures take place in the Andalusian Institute for Earth System Research (IISTA) near the Genil river, and the Science Museum of Granada (Parque de las Ciencias), at 15 minutes walking from the city centre.
This school is supported by leading international institutions in the field of coastal and estuarine physics: